2017 Event Information for Wineries
The 2017 Oregon Tempranillo Celebration will take place Saturday and Sunday, January 21st and 22nd.
The event is being held at the Ashland Hills Hotel and Suites in Ashland, Oregon, and kicks off with a welcome reception from 6:00 pm – 7:00 pm on Friday, January 20, 2017.  On Saturday, we'll be featuring tempranillo-focused seminars addressing a variety of interesting topics, including Vineyard Practices, Winemaking Practices, Cellaring Practices and Tempranillo Blends.  Lunch on Saturday will be a fun exploration of Oregon tempranillo, as we sample and analyze the varietal characteristics of tempranillo from each of Oregon's seven AVA's.  Saturday will conclude with an evening social where you can share your impressions from the seminars and a bottle of your wine!  Meanwhile, on Sunday we'll be hosting a consumer/trade tasting from 1:00 pm – 4:00 pm where attendees will have the opportunity to sample all the best tempranillo from around the state.
In addition, participating wineries will have the option to submit up to three tempranillo-based wines for a critical evaluation by a panel of outside experts, including influential wine writers and wine professionals.  These evaluations are confidential and will be shared only with the submitting winery.
This is a "pay-to-play" event and the registration (which includes all of the above), is $250 for OTA members and $350 for non-members.  So if you have not yet renewed your membership in the Oregon Tempranillo Alliance, you should do so immediately, as membership dues are only $100.
2017 Oregon Tempranillo Celebration GRAND TASTING
* SOLD OUT *
2017 Event Program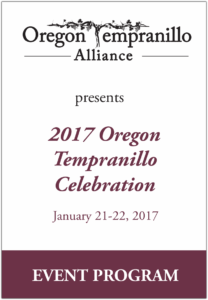 Attention Wineries!
If you are an Oregon winery producing tempranillo wines and would like to participate in the 2017 Oregon Tempranillo Celebration, please see the following forms: